Get the Credentials You Need to Help Qualified Workers Become Homeowners!
If you are a North Carolina REALTOR® with a passion to help first time homeowners, then you may benefit from the Workforce Housing Specialist certification.  As a REALTOR®, you know that many workers in critical service and healthcare occupations still do not earn enough to afford the median-priced home in the community they serve.  When vital workers can live in the communities they serve, the community benefits from a higher quality of life.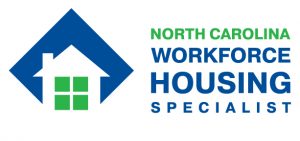 NC REALTORS® Housing Foundation created the North Carolina Workforce Housing Specialist (WHS) certification program to equip REALTORS® with expert knowledge on housing programs and resources available to workforce housing buyers earning less than the area median income.
---
Benefits of Certification
Gain access to downpayment options only open to Workforce Housing Specialists.
Become an affordable housing expert in your community.
Remain educated on the most recent and pressing issues affecting homeownership affordability.
Join other like-minded professionals to advocate for affordable housing at the state level.
Gain industry recognition.
Receive a certificate and a pin and be listed as a Specialist on this website.
Advertise your credentials in your marketing.
Learn how to become certified today!